Washington, D.C. – In response to continued obstruction of congressional requests, Science, Space, and Technology Committee Chairman Lamar Smith (R-Texas) along with Oversight and Government Reform Committee Chairman Jason Chaffetz (R-Utah) and Agriculture Committee Chairman Mike Conaway (R-Texas) today offered an amendment to cut the Environmental Protection Agency's budget. The amendment was offered to a Department of Interior appropriations bill (H.R. 2822) and would cut existing budgets in half for both EPA's Office of the Administrator and the Office of Legislative Affairs. The amendment was agreed to by voice vote.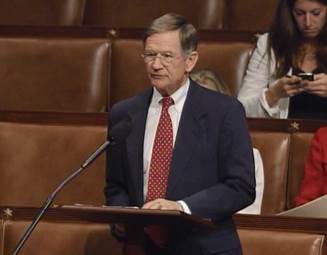 Click HERE to view a video Smith's floor remarks.
Chairman Smith: "The amendment addresses the Environmental Protection Agency's (EPA) continuing pattern of obstruction and delay in response to Congressional oversight. Since January 2014, the EPA has proposed or finalized new, far-reaching rules that impact almost every aspect of the American economy. These rules involve major expansions of federal authority, massive costs to the economy, and are based on secret science that the EPA keeps hidden from external review or scrutiny. Congress has a Constitutional responsibility to perform rigorous oversight of the Executive Branch. However, as Chairman of the Committee on Science, Space, and Technology, nearly every request for information to EPA is greeted with repeated delays, partial responses, or outright refusals to cooperate. EPA must refocus its efforts on transparency and cooperation with Congress and the American people. At that point, we could consider restoring their funding."
The Science Committee will hold a hearing this Thursday at 10:00 A.M. to receive testimony from EPA Administrator Gina McCarthy on the EPA's regulatory agenda.