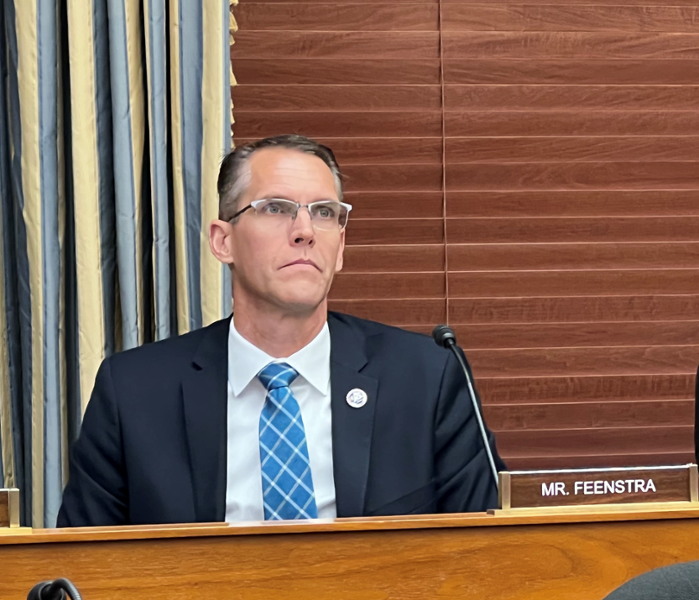 (Washington, DC) House Science, Space, and Technology Committee Ranking Member Frank Lucas announced today that Rep. Randy Feenstra of Iowa will be the new Ranking Member of the Subcommittee on Research & Technology.
"I'm happy to announce that Representative Randy Feenstra of Iowa is going to take a leadership role on our Committee, serving as the Ranking Member of the Subcommittee on Research & Technology," Lucas said. "In his time on the Science Committee, Rep. Feenstra has already shown leadership on crucial issues and authored legislation to help protect our research from foreign theft, expand research and development of biofuels, and improve bioengineering. He understands that innovative science and technology is key to growing the American economy and keeping us ahead of threats from adversaries like the Chinese Communist Party. I'm excited for him to take the helm of our Research & Technology Subcommittee."
"I am humbled to be named the Republican Leader of the Research and Technology Subcommittee and thank Congressman Waltz for his exceptional work and leadership," said Feenstra. "Over the last several years, we have witnessed incredible advancements in science and technology that have improved the lives of millions of people and spurred economic growth in Iowa and across the country. From precision agriculture and biofuels development to energy independence and fair trade, technological innovation and cutting-edge research touches every sector of our economy and helps us compete with the growing threats of China and Russia. I am ready to get to work and deliver results for our thriving agricultural and biofuels industry, our renowned colleges and universities, and the hundreds of thousands of people who call Northwest Iowa home."
Rep. Feenstra is taking over the role of Ranking Member of the Research & Technology Subcommittee following the departure of Rep. Michael Waltz, who recently assumed a leadership position the House Armed Services Committee's Subcommittee on Readiness.
"Rep. Waltz did a tremendous job as the Ranking Member of the Research & Technology Subcommittee," Lucas said. "His work was instrumental in developing a bipartisan legislative package to double down on our investments in basic research and set a strategic course for American scientific and technological development. He's been a strong voice for safeguarding U.S. research and combatting the growing threat from China. He will be a valuable Member of the Energy Subcommittee, and I wish him well in his leadership role on Armed Services."
"I'm grateful to Ranking Member Lucas for giving me the opportunity to lead Republicans on the Research & Technology Subcommittee since last year and look forward to working with Congressman Feenstra as he transitions as the new subcommittee ranking member," said Waltz. "I look forward to working with the Committee to further protect our research enterprise, intellectual property, and bolster technological advances and STEM education."
The full Republican Committee roster is available here and Subcommittee rosters are available here.