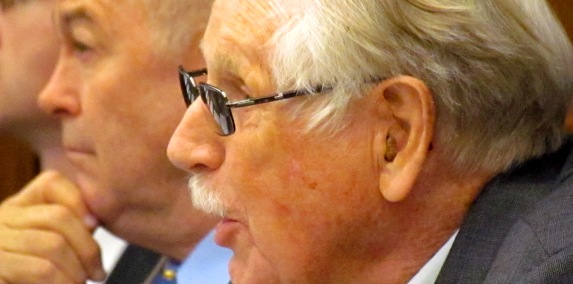 Washington D.C. – Today, the Subcommittee on Energy and Environment held a hearing to examine challenges and opportunities associated with expanding development and use of unconventional oil and gas production technologies. The hearing continued the Science, Space, and Technology Committee's ongoing efforts to consider key components of a true "all of the above" energy strategy.
Subcommittee Chairman Andy Harris (R-MD) said that "The Green River Basin, located in Colorado, Utah, and Wyoming, may contain up to three trillion barrels of oil—more potential oil than the rest of the world's current oil reserves combined." Harris said that "If this energy—which is overwhelmingly on Federal lands—is made available, I am confident American ingenuity will find ways to responsibly explore and produce this resource."
The International Energy Agency (IEA) projects conventional crude oil production will significantly decline in the coming decades. In order to meet projected global demand for energy, the world will need to expand production of unconventional oil, natural gas liquids, biofuels, and other substitutes.
However, the Administration's fiscal year 2013 budget request for the Department of Energy (DOE) proposes to eliminate almost all oil and gas research and development (R&D). Republicans today repeatedly questioned the Administration's anti-fossil fuel actions against the backdrop of President Obama's stated goal in his most recent State of the Union address to pursue an "all of the above" approach to energy.
Chairman Harris specifically asked Mr. Charles McConnell, DOE's Assistant Secretary for Fossil Energy, whether oil shale and oil sands are part of the President's "all of the above" strategy. Mr. McConnell stated that both resource bases are part of the President's energy mix, but later acknowledged that the Administration does not request funding to advance production technologies. [Watch the video HERE]
Harris said: "It's disturbing that the Administration claims these vast resources are part of the President's approach, when in fact the budget provides no support for their development. This further confirms the President's 'all of the above' rhetoric is hollow and misleading, if not downright false."
Full Committee Chairman Ralph Hall (R-TX) raised similar concerns with respect to the Administration's support for shale gas production. "I would just note for the record that in his State of the Union speech, the President said 'it was public research dollars…that helped develop the technologies to extract all this natural gas out of shale rock.' It is troubling that he is suggesting the Federal government made hydraulic fracturing possible while at the same time trying to kill R&D within the same program that he says deserves credit for the current oil and gas boom," Hall said.
Ms. Samantha Mary Julian, the Director of Utah's Office of Energy Development, today highlighted the State's efforts to develop its unconventional energy, noting "Despite the lack of efforts of some federal agencies, the unconventional energy industry is alive and growing in Utah." Ms. Julian praised the benefits of expanded unconventional energy development on employment and education. "Utah actively manages its lands to promote the responsible development of its energy resources as it produces the main source of funding for our schools," Julian said. "Simply put, Utah educators and students depend on responsible energy development."
It is currently projected that American oil shale resources could yield an estimated 800 billion barrels of oil. Witnesses today stressed that continued advances and breakthroughs in technology will help facilitate the development of America's unconventional oil and gas resources. The President and CEO of US Seismic Inc., Mr. Jim Andersen, discussed how the new technology his company is developing will enable shale oil and gas producers "to improve efficiency, increase output, and enhance safety, all at a lower cost."
The CEO of US Oil Sands, Inc., Mr. Cameron Todd, further highlighted his company's anticipated pilot project to produce oil from oil sands, noting their innovative process uses "far less water, energy, surface area, and generates less greenhouse gas than any project to date."
Mr. Tony Dammer, the former Director of the DOE's Office of Naval Petroleum and Oil Shale Reserves, noted the Department of Energy has not implemented the policies contained in the Energy Policy Act of 2005 with respect to its responsibilities to develop oil shale. Dammer said that if the sections of the law "were implemented and the unconventional fuels development program was initiated within the DOE, uncertainty and inconsistency in policy would not exist today."
Additionally, Ms. Julian, Mr. Todd, and Mr. Dammer all stressed the need for access to Federal lands for energy development.
The following witnesses testified today before the Subcommittee:
Panel I
The Honorable Charles McConnell, Assistant Secretary for Fossil Energy, Department of Energy
Ms. Anu Mittal, Director, Natural Resources and Environment, U.S. Government Accountability Office
Panel II
Ms. Samantha Mary Julian, Director, Office of Energy Development, State of Utah
Mr. Jim Andersen, Chief Executive Officer and President, U.S. Seismic Systems, Inc.
Mr. Cameron Todd, Chief Executive Officer, U.S. Oil Sands, Inc.
Mr. Anton (Tony) Dammer, Member, Board of Directors, National Oil Shale Association